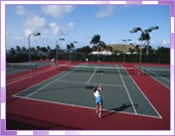 Make your dreams of aquamarine bays, soft beaches, and radiant sunbathed horizons come to life. Our network of industry leaders connects you with timeshare resales across the majestic islands of Hawaii. Whether you're looking for the perfect, private get-away, or a place where the entire family can bond and create memorable stories, find it with Hawaii timeshare resale.
While the weather and beaches will attract you to this pristine destination, you'll truly fall in love with the culture and its people. Immerse your tastes in the cuisine, witness a traditional Pacific ceremony, and then visit the dynamic jungle habitats and underwater coral reefs . all within a few short miles from each other. From the volcanic marvels of Maui to various historical sites, including Pearl Harbor, escape the ordinary with your Hawaii timeshare resale.
Enroll in our Hawaii timeshare resale program to experience Hawaii's versatile activities and amenities that relax the mind and free your spirit.
HAWAIIAN TIMESHARE EXPERIENCE
Treat you and your loved ones to the unique experiences that the timeshares of our resale network unlock. Enjoy an ocean-side view while you feast on fresh fruit. Uncage your spirit as you parasail over the Aloha State's uninhabited Northwestern chain of islands, and then visit those areas for a peaceful evening at a secluded locale.
Steeped in proud cultures and home to some of the world's most beautiful sights, Maui, Kauai, Oahu and the Big Island of Hawaii are routinely the most sought after travel destinations each year. Let us help make this paradise your temporary home with an affordable Hawaii timeshare or resale opportunity.
Our affiliation with the extensive Marriott/Hilton timeshare and resale network connects you with these, and many other properties:
MARRIOTT TIMESHARES & RESALES
HILTON TIMESHARES & RESALES
WESTIN/STARWOOD TIMESHARES & RESALES
Kauai – Westin Princeville Ocean Resort Villas
Maui – Westin Ka'anapali Ocean Resort Villas
HAWAIIAN VACATION PROPERTIES
After a Hawaii vacation, it's a common occurrence that people wish they lived, at least part of the year, on one of these magnificent islands. Let our qualified staff help you make this wish come true. Contact us to explore the many, varied timeshare resale options that we tailor for you and your family.
Because the annual costs of taking a personal or family vacation continue to rise, please use our vacation cost calculator to determine just how much you can save by investing in our timeshare expertise. The leading names in the industry trust us, and we want to now gain your trust by bridging the gap between you and the stunning beauty of Hawaii.