FIND YOUR HAWAII TIMESHARE RESALE TODAY!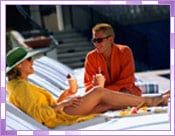 Search Hotel Timeshare Resale's listings for Hawaii timeshare resales and spend your vacation in America's paradise for thousands less. Our timeshare resales in Hawaii offer high-end hotel timeshares at a fraction of the cost. If you are actively searching for a timeshare in the Hawaiian Islands, our timeshare resale properties include our Best Price Guarantee followed-up with unbeatable service after the sale.
CHOOSING A HAWAII TIMESHARE RESALE
We carry a variety of Hawaii timeshare resales throughout the islands to meet a wide range of customer criteria. However, while many timeshare resellers boast thousands of timeshare resale units, we only offer timeshare properties that meet our strict standards of quality and exceed your high expectations. It has never been our goal to offer the biggest list of Hawaii timeshare resales, only the best.
With properties on Maui, Kauai, Oahu and the Big Island of Hawaii, we are proud to offer Hawaii timeshare resale properties from some of the world's most popular timeshare developers. As Marriott's #1 independent reseller worldwide, we offer Marriott timeshare resales in Hawaii throughout the Hawaiian Islands. We also offer Hawaii timeshare resales from Hilton in addition to other properties in this tropical paradise. To view all of the timeshare resales and properties we offer in Hawaii, please visit our listings search page now.
DISCOVER BEAUTIFUL HAWAII TIMESHARE RESALES
The Hawaiian islands are a place of beauty and awe. Owning a Hawaii timeshare resale property provides you and your family with a comfortable starting point for exploring the far west wonders of America. With sparkling beaches, sky-filled highlands and volcanic mountaintops, Hawaii offers a vacation from the ordinary for everyone.
While the cost of taking a family vacation continues to rise every year, timeshares offer an alternative. Our vacation cost calculator can give you an overall idea of how much you will spend on vacations throughout your lifetime. Purchasing a Hawaii timeshare resale property can significantly reduce your Hawaiian vacation costs.
In addition, Hawaii timeshare resales can save you even more. In some cases, sales and marketing costs add up to more than 50% of the original purchase price. With Hawaii timeshare resales, you pay for the basic property value, without the mark up costs.
Take a moment to discover the wide variety of Hawaii timeshare resales that we have available. Looking for something a little more on the mainland? No problem! Take a look at the various Florida timeshare resales also available from Hotel Timeshare Resales.